Here is everything you need to know about Francisca Gomes, the girlfriend of Pierre Gasly
Formula one star Pierre Gasly is dating Francisca Gomes, a Portuguese professional model, TV presenter and social media influencer. The couple were first spotted together in the paddock at the 2022 F1 Abu Dhabi Grand Prix. In this article, you will find out everything about her including net worth, personal life, career, and more.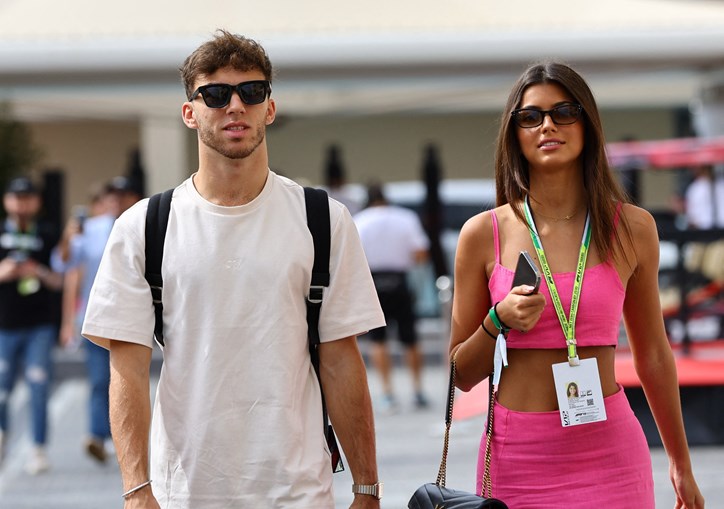 Francisca Gomes Personal Life
Francisca Gomes is a 19-year-old professional Portuguese model, a TV presenter and a social media influencer. Gomes is popularly known as 'Kika' and is a well-known personality on social media platforms like Instagram. Gomes has been dating Gasly since 2022 after the French driver broke up with his previous girlfriend Katerina Berezhna.
Gomes has got close to 3 lakh followers on Instagram and is often seen promoting various brands. She is very particular about her privacy and details about her family background are not available in the public domain yet. We'll update this column whenever we have further details regarding the same.
Francisca Gomes' boyfriend Pierre Gasly
Pierre Gasly is a French racing driver, currently competing in Formula One under the French flag, racing for Alpine F1 team. He is the 2016 GP2 Series champion, and the runner-up in the 2014 Formula Renault 3.5 Series and the 2017 Super Formula Championship.
He made his Formula One debut with Toro Rosso at the 2017 Malaysian Grand Prix. He moved to Red Bull Racing in 2019, before moving back after trading with Alexander Albon from Toro Rosso between the Hungarian and Belgian rounds to partner Daniil Kvyat. Gasly took his maiden, and, as of August 2022, only Formula One victory at the 2020 Italian Grand Prix while driving for AlphaTauri.
Gasly's family has long been involved in motorsports. His grandfather competed in karting, his grandmother a kart champion, and his father Jean Jacques has also competed in various categories of racing including karting, endurance racing and rallying. His father stopped rallying when he fell off a mountain after his co-driver made a mistake reading the pace note. At the age of six, Gasly first experienced karting at a local karting track in Anneville-Ambourville. He was 13 years old when he left Rouen for Le Mans after his commitment for competitive racing.
Gasly made his Formula One race debut at the 2017 Malaysian Grand Prix with Toro Rosso, replacing Daniil Kvyat. He finished the Malaysian and Japanese Grands Prix outside the points. Gasly was expected to take Carlos Sainz Jr.'s seat at the United States Grand Prix after Sainz left for Renault, but he was forced to miss the race due to a clash with the final round of the 2017 Super Formula Championship.
He returned to the team for the Mexican Grand Prix, partnering with Brendon Hartley after the team decided to drop Kvyat from the Red Bull programme. Gasly joined Alpine from AlphaTauri ahead of the 2023 F1 season.
Francisca Gomes Career and Net Worth
Gomes is a professional Portuguese model and is contracted to Gustavo Central models in her home country. She is a popular TV presenter as well, besides being a well-recognised social media influencer. Gomes endorses various brands on social media platforms and all of its accounts for her overall net worth which is estimated to be around US$ 1 million as of 2023.
FAQs about Pierre Gasly's girlfriend Francisca Gomes
(Q) What is Francisca Gomes' Job?
Francisca Gomes works as a professional model and TV presenter.
(Q) Since when have the two been dating?
The couple are reportedly dating since 2022.
(Q) Is Francisca Gomes married to Pierre Gasly?
Francisca Gomes and Pierre Gasly are in a relationship but not married yet.
(Q) What is the net worth of Francisca Gomes?
Her net worth is estimated to be US$ 1 million as of 2023.
More Formula One News
Follow our dedicated Formula One page for instant Formula One news and updates