UFC 286: Edwards VS Usman Odds, Prediction and Fight Preview
The UFC's return to London in July of last year proved, once again, that the fans in the United Kingdom bring the excitement every time, from the opening bout of the night through to the last event.
This weekend, UFC 286 comes to The O2 Arena, and the rowdy fans there will get to watch one of their own defend his title in a rematch of their explosive fight at UFC 278. Leon Edwards will defend his welterweight title against former champion Kamaru Usman.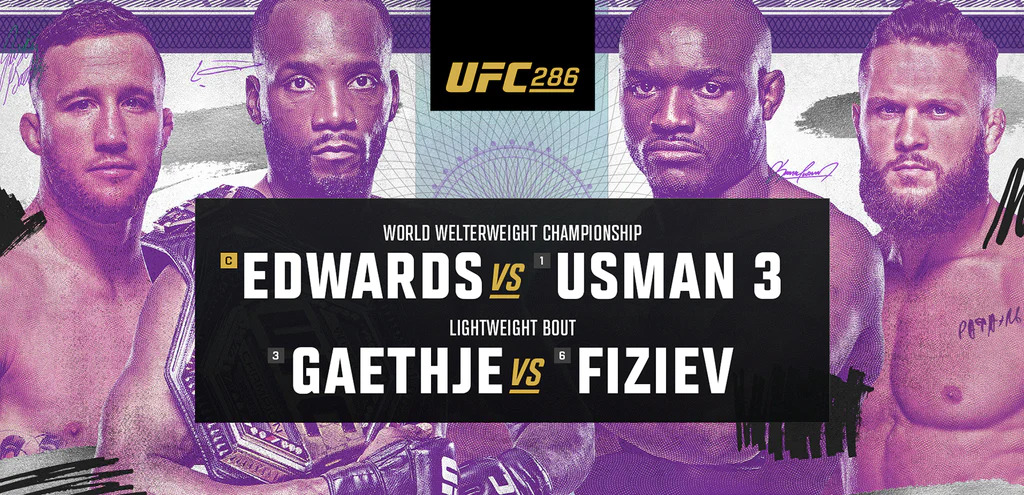 Leon Edwards vs. Kamaru Usman 3
A rematch was inevitable after the shocking conclusion of their previous encounter in the Octagon.
At UFC 278's last minute, Edwards landed a left high kick that threw Usman down and out, transforming what was supposed to be a unanimous decision win for the champion into one of the most unexpected events in recent MMA history.
Edwards started well, startling Usman with a takedown early to get out of the gates quickly, but after that, "The Nigerian Nightmare" composed himself and dominated the remaining 19 minutes of the battle. With Din Thomas, Joe Rogan, and Daniel Cormier all saying that Edwards was defeated and resigned to losing a unanimous decision, Jon Anik said, "but that is not the cloth from which he is cut" milliseconds before Edwards jumped high and knocked Usman out.
The exciting nature of this fight stems from the fact that the events in Salt Lake City raised many concerns about the competitors and the bout, many of which are likely to be resolved this coming Saturday in London.
We don't know how Usman will react to getting knocked out, losing his welterweight title, and seeing his long unbeaten streak end all at once. Will Edwards be able to capitalize on that historic moment, or will he revert to the rhythm and pattern that had him trailing on the scorecards into the last minute?
And how will each man be changed by fighting in London? Will Edwards's fan base rally around him and encourage him to improve as a candidate? Can Usman thrive as the "away" team trying to beat the home crowd and send them packing?
Even without the UFC welterweight title on the line, this fight has all the makings of a great one.
Our prediction: Recovering from a KO loss can take time, especially considering how brutal it was. While we expect Usman to go into the fight with a wrestling heavy approach, don't be surprised if he catches Leon Edwards early with a powerful shot. With all that in mind, we expect a KO victory for Usman.
After losing his second title shot at UFC 274, Gaethje returns for the first time since then. The last time he was in this position, facing a fellow contender after a title fight defeat, he teamed up with Michael Chandler at UFC 268 to turn in the 2021 Fight of the Year at Madison Square Garden.
Fiziev, who has been challenging his rivals in the rankings for quite some time, has finally been granted his dream and will now fight within the same cage as a member of the Top 5. The skilled and dynamic forward has won his past six matches in a row, and in his last five, he has also won a bonus in each of those matches. You won't want to miss a second of this one because as the punches start flying, you know it's a banger.
This Saturday, hometown hero Gunnar Nelson takes the ring in London for the second time in as many weeks, and he'll be joined by seasoned opponent Bryan Barberena.
After more than two years out from the ring and two consecutive defeats, in March of 2018 Nelson returned to action and won a unanimous decision over Takashi Sato, demonstrating the same distinctive technical abilities that had kept him in the Top 15 for so long before those setbacks. In his first two 2022 appearances, "Bam Bam" pulled up strong victories over veterans Matt Brown and Robbie Lawler. However, in December, he was unable to accomplish the hat trick, losing via submission to Rafael Dos Anjos in Orlando in the second round.
UFC 286 Odds (Via: thesportsgeek.com)
| UFC 286 PICK | ODDS | PAYOUT PER $100 WAGER |
| --- | --- | --- |
| Kumaru Usman | -250 | $125 |
| Rafael Fiziev | -240 | $141 |
| Gunnar Nelson | -425 | $123 |
| Casey O'Neill | -175 | $157 |
| Marvin Vettori | -285 | $135 |
| Jack Shore | -525 | $119 |
| Chris Duncan | +100 | +200 |
| Patterson vs Ashmoz: Under 2.5 Rounds | No Odds Posted | NA |
| Gabriel Santos | +140 | $140 |
| Christian Duncan | -205 | $148 |
| Jake Haldey | -360 | $127 |
| Luana Carolina | +145 | $245 |
| Ludovit Klein | -168 | $159 |
| Juliana Miller | -400 | $125 |
More MMA news
Follow our dedicated MMA page for instant MMA news and update